| | | |
| --- | --- | --- |
| | | **While our thrift stores are always grateful for donations, we are not able to accept in kind donations for the fire. The best way to help is to make a financial contribution. Monetary donations allow us to quickly and efficiently meet the immediate needs of disaster survivors without incurring many of the costs associated with sorting, packing, transporting and distributing donated goods.** |
We're There to Help
The Clayton fire in Lake County, which started in Mid August, has destroyed 4,000 acres and 268 structures.
The Salvation Army was there almost as soon as the fire started. Here in the Del Oro Division, we deployed four mobile canteens to the area where we are providing meals, drinks and snacks to evacuees. We helped people in any way we could - for example, providing shoes, socks, blankets, supplies for diabetics, diapers for babies... anything to help people affected by this terrible fire!
Going Forward
The fire may be over - but that doesn't mean we're done helping!
As people return to their homes, we are extending meal services and, where possible, providing gas and Walmart gift cards. We've have established three service sites for residents, and staff will continue feeding first responders and evacuees for as long as there is a need.
We have helped hundreds of evacuees and served over 5,000 meals.

There to Care
As the fire was brought under control, The Salvation Army was the first agency allowed into the Lower Lake area which has been devastated. We provided emotional/spiritual care to first responders as well as residents who didn't evacuate, but stayed through the fire.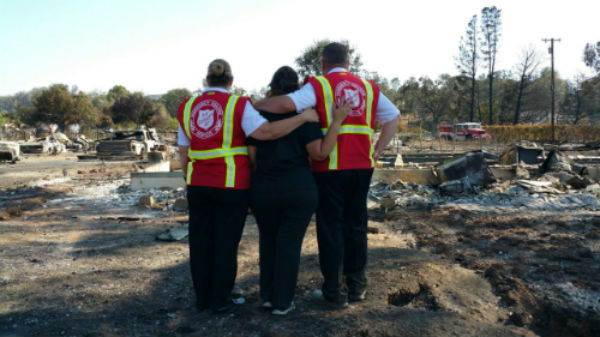 Spiritual and emotional care is an important aspect of our support services.

You Can Help
At this time, we are not able to accept in-kind gifts. 100% of your monetary donations go toward helping those affected in Lake County.
Please click here, or call 800-SAL-ARMY to donate.
Thank you!